The two readings for this week were focused on online learning in K-12 classrooms in Canada. This perspective provided more insight for those of us that live and work in that context. I have used a 'What?-So What?-Now What?' critical reflection framework to guide my thinking on the topic based on the assigned readings, annotations on those readings, and class discussion.
What? 
Online learning is becoming a more prevalent option for students because of the increase in technology application pedagogy, and understanding and Canada's low population density (Blomgren, 2017). The online learning model allows students from remote communities as well as students that do not fit into the regular classroom, for whatever reason, an opportunity for equitable access to education.
One of the major points that Blomgren (2017) brings up in the article is that in order to strengthen the understanding of online education, there needs to be a refinement and agreement on terminology in this field. The language used to refer to online education and the frameworks that help to build their platforms, differ from province to province in Canada. Therefore, how is there supposed to be growth when there is no common understanding or direction for learning? I guess I was naive in the fact that there was a common language being used. I assumed that because Canada is often a leader in the field of education, the provincially and federally, the language within the context of education would be the same. Because of this, there is change being made and research being done in isolation in provinces but there does not seem to be federal plan or goal that educators are moving towards in the field of online education.
Therefore, it begs the question, is online learning becoming the 'food back of education' rather than an appropriate quality alternative? In order to be an alternative instead of a choice, there needs to be research into how to create learning platforms and frameworks that provide the same (and more) opportunities for learning as in class. In order to develop effective online learning opportunities, educators have to  take into account specific teaching practices that are different from classroom teaching (Crosslin, 2018). Below is a list of  her suggestions based on research in the field:
spending time and resources to create a high quality learning experience
creating lessons that focus on more active engagement and less on passive content
shorter course duration's with simple, straight forward organization
less focus time on videos to watch and/or text to read per week
one topic or module per week
complete the entire course design before the start date
utilizing networked learning and interactive activities
instructors that participate in the social media outlets and discussion forums
listening to and responding promptly to participant concerns
connecting content with current events and current life experiences of the learners (time built into the schedule for educators to do this)
well written goals/objectives/competencies accompanied by content and activities that align well with them
clear communication for ALL aspects of the course
The communication piece is key, especially more so in an online learning environment. As Crosslin (2018) notes in her article, there are many different communication types that educators can be utilizing in their teaching (see below)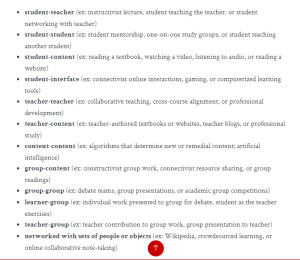 From (Crosslin, 2018)
As Leanne mentioned in one of her annotations for this week, she has a hard time as an online educator being able to monitor where students are at in their understanding as so much of the information we as teachers gather from students on a day to day basis in the classroom is based on our observations. She has noticed that there are a few assertive students in her classes that will reach out if they are encountering issues, however, others do not. In order to ensure all students are supported and are successful in online learning platforms, there needs to be a baseline and a general understanding of 'best practices'.
Online learning programs and frameworks might be a great first step in some of the remote communities in Canada as it allows for flexible time and spaces. However, due to continuing issues, there seems to be a lack of connectivity and buy-in in some communities in Canada (Blomgren, 2017).  Due to historic atrocities, there has been a systemic lack of care and support for Indigenous communities by the government (Episkenew, 2009).
So What? 
The big question that has come out of these readings, for me, is how can there be systemic change when there is different language used across the country on the topic of online education? If there are different institutions running different programs and talking about education in different ways, it creates a fragmented general understanding. Technology is already an ever changing domain in which educators often do not feel competent in their understanding. So how can we expect educators to just jump on board when there is really no guidelines or safety nets? And especially for administrators, it is not fair for us to be asking our staff to be moving in a direction that is so unknown and with very little support. We are currently seeing push-back from teachers on this in Ontario based on the new proposed graduation criteria (Mauracher, 2020).
Connected to the lack of direction for online learning, there also seems to be a growing concern in this realm about ethics and privacy. Educational technology changes so fast and educators often want to embrace the newest toy in order to engage their learners. As a result, students are engaging on platforms that are not protecting their information and identity online. This puts children at risk.
Another question that came out of the reading and came up in small group discussion, was about the possibility to have a meaningful classes without grades. Elementary schools in British Columbia are testing out alternatives, such as a proficiency scale, use of a digital portfolio, and different descriptors but it is coming with limited success. Based on my own experiences, the younger students enjoy descriptive feedback and understand the proficiency scale, but as they get older, parents are still concerned with letter grades and percentages as they are getting ready to transition into post-secondary. Parents and students often compare the scales and feedback to letter grades anyways the emphasis continues to be on the number as opposed to the skills and content knowledge they have acquired. And this definitely has an effect on students learning.
Now What? 
I am currently a grade two teacher in a district that does not have online learning opportunities provided to students. Therefore, there is not much that I can apply to my educators toolbox in regards to effective online teaching practices.
However, what I can take into consideration in my role as a classroom teacher and Vice Principal, is to be more conscious about the technology that we bring into the building. We need to ensure that we are teaching them skills that they would not know otherwise, but doing it through ethical technology and platforms that will keep their privacy secure. My school district is now starting to take things on at a more district level (e.g. iPad apps are now uploaded and sent out from district IT and any new apps have to be reviewed by an ethics team). At a school level I can remind teachers about the importance of this, as well as model it through my own teaching.
---
References
Blomgren, C. (2017). Current Trends and Perspectives in the K-12 Canadian Blended and Online Classroom. In N. Ostashewski, J. Howell, & M. Cleveland-Innes (Eds.), Optimizing K-12 Education through Online and Blended Learning. Information Science Reference. 10.4018/978-1-5225-0507-5 http://ezproxy.library.uvic.ca/login?url=https://www.igi-global.com/gateway/chapter/full-text-html/159551
Crosslin, M. (2018). Effective Practices. In M. Crosslin (Ed.),Creating Online Learning Experiences. Mavs Open Press. https://uta.pressbooks.pub/onlinelearning/chapter/chapter-5-effective-practices
Episkenew, J. (2009). Taking back our spirits: Indigenous literature, public policy, and healing. Winnipeg: University of Manitoba Press.
Mauracher, J. (2020, January 22). What is e-learning and why does it have some Ontario teachers concerned? Retrieved from https://globalnews.ca/news/6444006/e-learning-in-ontario-schools/